Database Management FAQ
---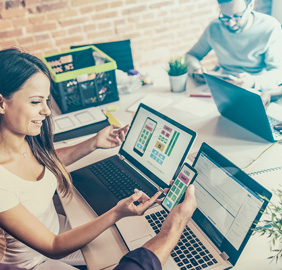 At Progressive Data Service, we know better insight leads to better outcomes. We use our extensive experience to help your business reach new audiences. It is our goal to help you solve the unique marketing challenges your business is up against and determine which markets represent the greatest opportunity for growth, so no time is wasted.
The main way to grow your business and find new customers is to put your message in front of them and earn their trust. This may seem like common sense, but many businesses struggle with quality lead generation. In order for your marketing to be effective and efficient, you must first target the right audience.
Progressive Data Services keeps you up to date with real-time visibility for event activity, CRM activity, and subsequent conversion rates — all the insights you need to go the extra mile and gain a competitive edge. Our proven marketing solutions help you win, keep, and grow your customer base.
Take your business to new heights, reduce costs, and increase response rates with modern cross-platform web applications, targeted outreach, and more. Contact us today to learn more about our comprehensive customizable data management services, or read below for the answers to some frequently asked questions.
Does my business need data services?
We've collaborated with a wide spectrum of industries and businesses, from small mom-and-pop shops to multinational operations. The truth is that any size organization — from local retailers to national chains — can benefit from the knowledge that data analysis provides. In addition, PDS's data management and analytical products are fully scalable, so you'll only pay for what you really need.
What services do you offer?
In addition to our data hygiene and standardization efforts (including cleansing, de-duping, and key coding of prospect and customer lists for specific objectives), we also provide the following services:
Process Automation
Data Management
Data Analysis
Data Security
Web App Development
Campaign Management and response tracking

Full-Service List Brokerage Services (Postal/Email/Telemarketing)

Personalized Direct Mail and Email Marketing
What is data hygiene and why is it important?
These days, almost every business has a computerized data keeping system. It is important to collect contact info to stay in touch with your customers and let them know about developments. However, if the data is improperly inputted, it is not useful. PDS works to standardize data within database systems, maintain data quality, and eliminate duplicate entries so you can make the most of the information available to you.
Good data hygiene involves aligning data into the proper fields and ensuring its accuracy. This means we will correct errors, delete or update outdated info, geocode, eliminate duplicate entries, remove bounced emails, and maintain "DNC" lists so you can focus your efforts on the most qualified leads. Furthermore, the first step of accurate reporting is database cleanup. We can help you make sense of your current CRM datasets and other unstructured data so you can prepare for new growth.
When it comes to mailing lists, for example, we take the time to update records using industry-standard USPS processes. These include National Change of Address (NCOA), Locatable Address Conversion System (LACS), and Coding Accuracy Support System (CASS).
How do you build your marketing lists?
When you work with us, we deliver targeted lists consisting of reliable prospect data. But how do we create your customized mailing list? We've partnered with a wide network of list providers to reach qualified leads. We start by listening intently to your current situation and gathering an exhaustive wants-and-needs profile. Then we retrieve data and tailor a solution best-suited to meet your project objectives.
Once we have details about your goals, we plan a multimedia campaign through mailers, emails, phone calls, and other avenues. Then, we monitor and fine-tune it to ensure that you're receiving the qualified leads you want. Your complete satisfaction is our goal. We have access to all of the major list providers, as well as independents. Our research team will work with you to tailor the perfect list!
All of our targeted mailing lists are backed by geographic and demographic research so you reach the most relevant readers. For example, if you're a realtor, we can help you target prospects that may be considering buying a new home in your area.
Do I need a web application?
At some point, all growing companies will need custom applications to streamline unique business processes. The web app development team at Progressive Data Services uses the best tools and technology, equipping them to handle any project requirements.
With our custom web app, organizations can accomplish the following:
Automate enterprise process
Manage large amounts of data
Increase business productivity
Reduce bsuiness expenses
Organize the launcg of new services quickly
Automate business workflows

Gain actionable insights

Easy integration with third-party platforms
Progressive Data Services provides custom web app development services for businesses in Michigan and across the nation. Our web apps can be as simple or as complex as you need them to be. We stay mindful of your deadlines and your budget every step of the way to deliver a product that fits. We can also match the look and feel of your existing website!
What's the difference between a wabsite and a web application?
The main difference between a web application and a website is the way a user interacts with each of them. Websites have static content the user can read and browse (like articles, blogs, and FAQs.) Web applications, on the other hand, are built with more complex technologies and offer unique features that the user wants or needs while they engage with your brand. Web apps allow many different types of interactions and transactions. They can also use application programming interfaces (APIs) to give users access to third-party services.
With a web application, users can conveniently complete actions such as placing and paying for orders, uploading documents, and accessing analytics. The possibilities of a web application are endless thanks to dynamic content.
What insdustried do you serve?
Progressive Data Services serves businesses in industries including automotive, banking/finance, manufacturing, healthcare, real estate, entertainment, retail, marketing, advertising, graphic design, higher education, senior living, travel/hospitality, pet care and grooming, and many more! No matter what services you provide, we'll do our best to connect you with the customers who need them.
To learn more about the industries we serve, we invite you to check out our case studies.
For A Dependable Database Management System, Choose Progressive Data Services
Formed in 2013 as a successor company to Burnett Direct, Progressive Data Services is a Michigan-based marketing support company ready to cater to your needs. With over 60 years of collective experience serving the industry, our seasoned team members have provided database marketing solutions to businesses since 1995.
We've optimized our clients' databases, designed apps, and generated leads. As always, we're ready to dive deep and help you find meaningful connections with a relational database management system. In short, we teach you how to properly gather and utilize customer intelligence to boost customer acquisition and customer retention.
If you have marketing challenges, we have solutions. To learn more about our database management systems and mailing list services, contact us now.