Effectively Reach Your Customers with Targeted Mailing Lists by Michigan-Based Progressive Data Services
---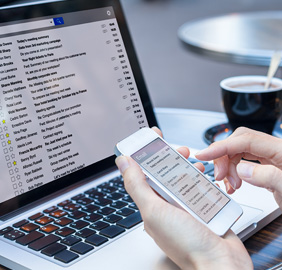 Grow your business. Find new customers!
Once your business gains the trust of a customer, they're typically a customer for life. Reaching new clients, however, isn't always as simple. In order to target new leads, many businesses blindly send their marketing efforts to the masses, hoping that something will stick and that new qualified leads will respond. However, a targeted data-driven marketing approach is much more effective, allowing a business to market directly to qualified leads via a direct mail campaign.
The targeted mailing list services offered by Progressive Data Services improve the efficiency and effectiveness of marketing campaigns by reducing costs and increasing response rates. Over the years, we've developed mailing lists for marketing for a variety of industries. Using our comprehensive list services, we provide you with prospect lists custom-tailored to your unique marketing campaign. We have access to all of the major list providers, as well as independents. Work with our research team today to discover the perfect consumer lists!
To learn more about our marketing mailing list services, read on below or contact us ASAP.
Our compiled mailing list services include:
---
Postal Mailing Lists
Email Lists
Telemarketing Lists
Consumer & Business Lists
Specialty & Compiled Lists
Creative Consultation
Geographic and Demographic Selects
Response Analysis
One-Off Mailing Execution
Benefits of Collecting Targeted Mailing Lists
Targeted mailing lists are one of the most effective ways to reach your ideal customers and grow your business. With Progressive Data Services, you can access the largest and most accurate database of consumer and business contacts in the industry. By reaching out specifically to targeted mailing leads, you'll enjoy the following benefits:
Segment your audience by location, income, age, interests, purchasing habits, and more. These insights allow you to tailor your messaging to the specific needs and preferences of your prospects. We can even perform targeted list pulls for micro-geographies.
Increase conversions, response rate, and ROI by sending relevant and personalized mailings to the people who are most likely to buy from you.
Avoid wasting time and money on uninterested or invalid recipients.
Track and measure the effectiveness of your campaigns with our advanced analytics tools. You can see how many people opened, clicked, or responded to your mailings, and optimize your strategy accordingly.
Interested? Mailing list providers like Progressive Data Services are ready to build a marketing mail list that works for your unique business needs. We can even help you design, print, and mail your materials. Contact us now to get started.
How We Build Our Marketing Lists
When you partner with us, we work together to create the ideal campaign for you. Our team has made customized mailing lists for small businesses and national chains alike, and we are partnered with a wide network of list providers to reach qualified leads.
First, we start off by listening intently to your current situation and gathering an exhaustive wants-and-needs profile. Then we retrieve data and tailor a solution to meet your project objectives. You'll provide us with details about the goals of your upcoming marketing campaign, and from there, we get to work planning the campaign through multimedia, whether that be via mailers, emails, phone calls, or other channels. All of our targeted mailing lists are backed by geographic and demographic research so you reach the most relevant readers. For example, if you're a realtor, we can help you target prospects that may be considering buying a new home in your area.
Once we execute the campaign, we monitor it and ensure that you're receiving qualified leads. Not getting the results you wanted after your campaign goes live? We can tweak whatever elements necessary to better optimize the volume of leads you receive. Your complete satisfaction is our goal.
To find out how to get mailing lists of relevant customers who need your services, reach out to us today!
Ready to Add PDS's Targeted Mailing List Services to Your Next Direct Mail Campaign?
Mailing list marketing is a great way to reach new customers and grow your brand's reputation in your local market. For over a decade, Progressive Data Services has been curating specialty mailing lists for businesses of all kinds. We serve businesses in industries including automotive, banking/finance, manufacturing, healthcare, real estate, entertainment, retail, marketing, advertising, graphic design, higher education, senior living, travel/hospitality, pet care and grooming, and many more! No matter what services you provide, we can connect you with the customers who need them.
By partnering with us, you gain an understanding of the ideal customers for your products or services. From there, it's easier to communicate with them and tailor your products to match their needs. In short, we teach you how to properly gather and utilize customer intelligence to boost customer acquisition and customer retention. If you have marketing challenges, we have solutions. To find out how to buy targeted email lists and watch your business soar to new heights, contact us today and make Progressive Data Services your mail list provider of choice.
---
To learn more about our mailing list services, contact the marketing experts at Progressive Data Services today!