Effectively Reach Your Customers with Targeted Mailing Lists by Michigan-Based Progressive Data Services
---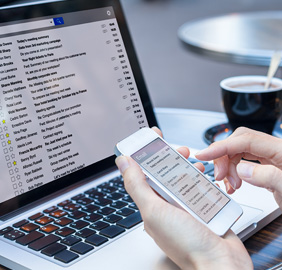 Grow your business. Find new customers!
Once your business gains the trust of a customer, they're typically a customer for life. Reaching new clients, however, isn't always as simple. In order to target new leads, many businesses blindly target their marketing efforts to the masses, hoping that new qualified leads will respond. However, a targeted marketing approach is much more effective, allowing a business to market directly to qualified leads. The targeted mailing list services offered by Progressive Data Services improve the efficiency and effectiveness of marketing campaigns by reducing costs and increasing response rates. Using our comprehensive list services, we can provide you with prospect lists that are targeted to your unique marketing campaign. We have access to all of the major list providers, as well as independents. Our research team will work with you to tailor the perfect list!
Our mailing list services include:
---
Postal Mailing Lists
Email Lists
Telemarketing Lists
Consumer & Business Lists
Specialty & Compiled Lists
Creative Consultation
Geographic and Demographic Selects
Response Analysis
One-Off Mailing Execution
How will PDS's list services help my next campaign?
By partnering with us, you gain an understanding of the ideal customers for your products or services. From there, it's easier to communicate with them and even tailor your products to meet their needs further. Our team has made customized mailing lists for small businesses and national chains alike, and are partnered with a wide network of list providers to reach qualified leads. When you partner with us, we work together to create the ideal campaign for you. We ask that you provide us with details about the goals of your upcoming marketing campaign, and from there we get to work planning the campaign through multimedia, whether that be via mailers, emails, phone calls, or a more creative approach. Once we execute the campaign, we can monitor it and ensure that you're receiving the qualified leads you want. Not getting the results you wanted after your campaign goes live? We can tweak whatever element necessary in order to better optimize the volume of leads you receive. Your complete satisfaction is our goal.
---
To learn more about our mailing list services, contact the marketing experts at Progressive Data Services today!