Database Management and Custom Analytics for Michigan Businesses
---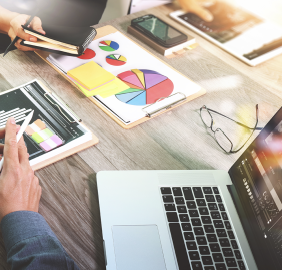 Increase your understanding of your customers with Progressive Data Services' proprietary data management solutions!
Your business depends on its customers and their purchases of your products or services. Since they are such a crucial part of your operation, ensuring that you know your clientele and that you message them properly is vital to success. Progressive Data Services' data management and data analysis services allow you to thoroughly examine and manage your customer data sets, creating a framework that can lead to increased response and ROI for your marketing programs. When you partner with us, your business gains a unique understanding of its customer base, allowing you to create a more direct marketing campaign that truly engages your clientele.
Data Hygiene Services – Put your best foot forward!
Clean data is the foundation of a successful marketing program. It is what provides the basis for understanding individual customers or your market in general, and then being able to message them correctly, putting your best foot forward.
PDS's data management and analytical products help you achieve that goal and are fully scalable; any size organization, from local retailers to national chains, can benefit from the knowledge PDS's data analysis provides. We can help you keep your valuable marketing data current through a variety of strategies, including:
Keep up with changing area codes and zip codes - your customers move at one point or another, and our services keep your customer information updated and accurate, so you never miss a chance to market your business.
"Dedupe" your data – in order to keep you informed of your target market and not overestimate your marketing efforts, we eliminate duplicate mailings. This, in turn, reduces the money spent on wasted postage.
Identify deceased and do-not-contact constituents – our data services keep you informed of any customers who have either passed away or opted out of hearing from you, allowing you to further your focus on qualified leads.
Update records using industry-standard USPS processes – these include NCOA, LACS, and CASS.
Align data into proper fields – our services remove data errors, inaccuracies, and anomalies, allowing your leads to be correctly spelled and formatted.
Delete inactive/erroneous email addresses – our services remove any bounced emails so you don't waste your marketing efforts on them in the future.
---
Data Management Services
Additional data management services we proudly provide are:
Data Enhancement – Appending of demographic, psychographic, business metrics, vehicle info, transactional data and more to your database.
Phone Do-Not-Contact Management –Management of telephone do-not-contact campaigns on a state-by-state or national level.
Office/Store Assignment – Assignment of prospects/clients to nearest or best-fit locations based on your specified set of business rules, whether simple or complex.
Custom Mapping – Production of presentation-quality map images that depict customer, business metrics, consumer demographics and more – in digital or hardcopy formats.
Task Automation – Automation of recurring marketing tasks that free up your internal resources.
Geocoding of Datasets – Attaching of latitude and longitude coordinates to any dataset (customers, prospects, store locations, etc.) along with selected geo-markers (block group, county, etc.)
One-Off Mailing Execution – We can handle all aspects of preparing your data for one-off mail execution. Provide us your business specs and the source data, and we'll take it from there. We'll prepare the data then send it downstream for further use by you or a party of your choosing.
---
To learn more about our data management and analytic services, contact the marketing experts at Progressive Data Services today!