Helping the Big Three Automotive Companies With Marketing Efforts in Michigan & Beyond
---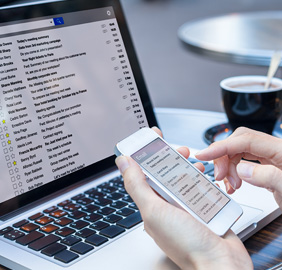 Like the "Big Three," Progressive Data Services proudly calls Michigan home.
And with America being the home of the automobile, we're energized to help Ford, General Motors, and Chrysler with their marketing strategies to separate themselves from the competition. We've developed marketing tools to help car companies increase their business through email campaigns and data management.
To learn more about it contact us ASAP.
Increase Click-Through Rates With Progressive Data Services
When trying to sell a new vehicle or promote a new service, having targeted lists pulled for micro-geographies will help your efforts reach the right people. Our lists can help you achieve a successful email marketing campaign geared toward your ideal target audience.
But it's not just an email marketing strategy that'll benefit from working with us. Our mailing lists also help with direct marketing as well! So whatever automotive marketing strategy you choose, our services can increase your success rate.
How Data Management Tools & Services Will Increase Your Bottom Line
When marketing toward car buyers, it helps to know which ones are the best fit for your client base. Progressive Data Services offers extensive data management services that help you completely revolutionize your marketing efforts. Using our tools and knowledge, we can target those seeking a vehicle. With success in this specific targeting, we've seen clients' customer acquisition cost decrease, thereby increasing their company's bottom line.
Below are a few data management tools we can use to help grow your automobile business.
---
Data Enhancement – Adding customer information such as demographic, psychographic, business metrics, vehicle info, and transactional data to your database.
Car Dealership Assignment – We can assign potential car buyers to the nearest or best-fit locations based on your specified set of rules.
Task Automation – By automating any recurring marketing tasks, we'll free up your internal resources.
Read Our Automobile Marketing Case Study
Progressive Data Services worked with Beta Company, a regional retailer of tires and automotive repair, to help them determine which new markets to expand into. We used several files of source information and internal reference tables containing demographics by Block Group and by ZIP, and ran an in-depth analysis. After our presentation, Beta Company was pleased and learned which areas to expand into and, as an unknown benefit, why some areas were underperforming.
The Progressive Data Services Mission
We strive to be the go-to data content provider and data management solution for the Big Three automobile companies, on top of our many current satisfied clients. Our company separates itself from the competition in the following ways:
Personal & direct-to-you service
Decades of experience in the direct marketing industry
Flexible, nimble workflows & fast turnaround times
Full-service list brokerage services (postal/email/telemarketing)
Proven data management leaders
Process automation expertise
Program management experience
Web solutions tailored to your project objectives & needs
Back-end solution know-how
Cost-efficient solutions
Other Industries We Serve
Progressive Data Services compiles analytics, mailing lists, and more for a wide range of industries. Our expertise goes beyond automobile marketing help as we can use our direct marketing and email marketing techniques for the following industries:
Advertising & Marketing Agencies

Airline Manufacturers

Banks & Financial Services

Entertainment & Event Companies

Gaming Companies

Healthcare Companies & Insurers

Leading Hospitals

Major Retailers & Franchisees

Mom & Pops/New Businesses

Non-Profit Organizations

Part Suppliers & Manufacturers

Real Estate & Property Companies

Schools & Universities
Our industries page features breakdowns of products and services that we offer to help companies in each specific industry. Regardless of industry, your marketing campaign will benefit from working with Progressive Data Services.
Once we execute the campaign, we monitor it and ensure that you're receiving qualified leads. Not getting the results you wanted after your campaign goes live? We can tweak whatever elements necessary to better optimize the volume of leads you receive. Your complete satisfaction is our goal.
Contact Us for Automobile Marketing Help
Our data management and marketing know-how can provide you with email marketing tools, comprehensive analytics, and marketing automation to help increase your profit margin. Contact our team at (248) 313-9120 today to get started.
---
To learn more about our services, contact the marketing experts at Progressive Data Services today!