Michigan's Top Data Management Team for Banks & Financial Institutions
---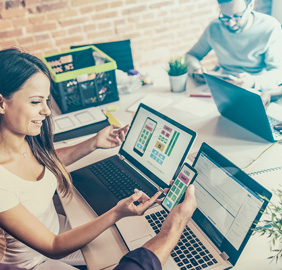 In the ever-evolving landscape of the financial sector, data management is the cornerstone of success.
At Progressive Data Solutions, we can help financial institutions reach and acquire new customers through our comprehensive data management, extensive mailing lists, and unique web app development services. Together, we can harness the power of data to reach and acquire new customers.
In an age where data-driven decision-making is paramount, we offer you the tools and insights necessary to make informed choices that drive growth and innovation. With a proven track record of assisting financial institutions, our expertise extends beyond data management; it's about your institution's growth, enhancing customer relationships, and staying at the forefront of the digital landscape.
Data Management
Our data management initiatives include the development of expansive data warehouses, which collect and organize diverse data from numerous sources. We carefully standardize the data, identifying and addressing inconsistencies, such as mover and fail records, while eliminating duplicates. Our commitment to data enhancement ensures that your information is refined and optimized, preparing it for downstream extraction and utilization.
We also specialize in Phone Do-Not-Contact (DNC) Management, navigating the complex landscape of state-specific telemarketing regulations. This approach involves the intake, consolidation, and proactive management of DNC data from state and federal government authorities. We build and maintain a master-compiled DNC database, constantly processing client files to guarantee compliance with the complicated web of state and federal laws governing telemarketing activities.
Email Listing
The backbone of successful digital marketing campaigns, email mailing lists serve as a direct line of communication to your bank's target audience. Emails help you communicate directly with your bank's target audience, reach potential customers, engage with existing ones, and build lasting relationships. A well-maintained mailing list is a treasure trove of valuable leads, allowing you to deliver tailored content, promotions, and updates directly to individuals who have expressed an interest in your products or services.
After building your email list, the full potential of email marketing lies in continually updating your mailing list. It must be segmented to be used for precision targeting, and you'll have to deliver content that resonates with your audience. Through Progressive Data Services, email listing can be a cost-effective way for lead generation.
Web Development
We specialize in implementing process automation solutions for online marketing messaging systems, encompassing mail fulfillment, comprehensive reporting, and powerful analytics. Our goal is to empower franchised and field locations with the autonomy to manage their marketing endeavors independently, all while safeguarding the integrity of the corporate brand.
Additionally, our event management modules streamline attendee data collection, consolidating it into a centralized database. This data is then cleansed, structured, and utilized to enhance CRM efforts, ensuring seamless event coordination and communication.
Lastly, our staff management modules provide real-time analytics and resource optimization. This dynamic approach enables precise location planning and human resource allocation, making it particularly advantageous for networked or franchised corporate environments. Our solutions are designed to not only enhance operational efficiency but also to elevate the overall performance and effectiveness of your organization.
Case Studies
---
Our collection of case studies offers a glimpse into our track record of digital marketing success across a wide range of industries. These case studies are a testament to our commitment to delivering tangible results and helping our clients achieve their strategic marketing objectives.
Contact Progressive Data Services for Your Bank's Data Management Strategy
Our digital and data-driven marketing efforts are proven through countless case studies and testimonials from our satisfied clients. We've used our successful data management, mailing list, and web app development services to help financial institutions reach new customers and nurture existing leads. Contact our team today to get started on your digital marketing strategy.
To learn more about our services, contact the marketing experts at Progressive Data Services today!