Web App Development Services for Businesses in Michigan and Across the Nation
---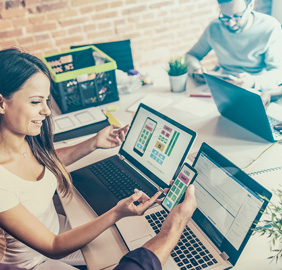 Capture visitors, organize your services, and streamline your content with a customized web app by Progressive Data Services!
Your customers expect more from your web presence than typical "brochureware," so give them a website experience that they won't forget! Progressive Data Services specializes in creating custom interactive, data-driven add-ons to augment and enhance your existing website's capabilities. Whether it's process automation or database design and development, PDS can create a custom solution for your unique business.
Why choose a customized solution instead of a template?
Each business is different, from its offerings to the team of people who work there. This should be reflected on your website, and a template solution cannot properly convey how unique your operation truly is! With a custom solution, you can include any functionality, design element, or layout you'd like, separating your business from the sea of competitors. Customers know within seconds if they like your brand just by evaluating your site, and the app experts at PDS can ensure that this first impression is a positive one by delivering a custom web app tailored to your unique business.
Each custom web app starts with a custom approach, where we'll deep dive into your current website.
We match look-and-feel of our bolt-ons to your existing site to create a seamlessly-integrated solution that adds power, functionality, and additional revenue streams, all without disturbing the site framework you already have in place. Your team can then utilize the customer intelligence gathered by our web apps to enhance product development, improve acquisition and retention efforts, and transform business operations and strategies.
At PDS, we take the back-end element of our projects very seriously.
---
Our solutions can range anywhere from reasonably simple to incredibly complex. With more complex applications, the optimization of the database element is a critical focus of ours -- it can make the difference between a crisp usable app and one that's virtually unusable.
We have experience deploying applications utilizing major back-end database systems, including Microsoft SQL Server, Visual Studio, and many others.
To learn more about our web app development services, contact the marketing experts at Progressive Data Services today!
Development Services for Custom Web Apps
Top organizations know that growth also depends on technology, talent, culture, data management, analysis, and process. Progressive Data Services helps businesses put them all to work in one place. We build Web Apps to take your business to the next level. Our development team uses the best technology and is equipped to handle any project requirements - from simple to the most complex demands. Companies need custom applications to streamline unique business processes.
With our custom web app, organizations can accomplish the following:
Automate enterprise processes
Manage large amounts of data
Increase business productivity
Reduce business expenses
Organize the launch of new services quickly
Automate business workflows
Gain actionable insights
Easily integrate with thrid-party platforms
Progressive Data Services have skilled specialists who follow the best practices of the industry and deliver successful solutions as per requirements while still sticking to your deadlines and budget. Our custom web application development team will spend time and effort upfront understanding your specific business requirements before choosing the best tools and technologies for web development projects.
Web Application vs Website: What's the Difference?
But what is the difference between a "website" and a "web app." Basically, the way a user interacts with a web product is the main differentiator between a website and a web application. Websites offer only static content, such as articles, blogs, news, and FAQs. Web applications are built with more complex technologies not to mention they are usually rather big as they contain lots of features.
A web app is a more complex product that allows for many types of interactions and can use APIs to give users access to third-party services. Through a web application, users can complete tasks such as placing and paying for orders, uploading documents and accessing analytics. The possibilities of a web application are endless thanks to dynamic content.
Our Web App Developers Will Create Your Custom Solution
Our team of developers create custom web applications using programming languages depending on your business interests. For custom development, you'll need a team of professionals who will ensure the project is released according to your business goals and deadlines. Progressive Data Services have all the necessary professionals and experience working as a team to seamlessly build custom app solutions, from start to finishsed to working as a team.
Our Streamlined Web Application Process at Progressive Data Services
We help our customers transform legacy systems into modern cross-platform web applications. Our experienced developers are able to implement the most demanded web application development requests. Our team will help you evaluate your business goals and requirements such as:
Choosing the right tech stack
Ensure project success
Build a powerful and prosperous web application
Our focus is to offer valuable and high-quality solutions that help our clients achieve their business goals and support initiatives. Being a custom web application development company with a lot of experience, we execute the most challenging projects in developing complex web app. Addressing all the requirements and needs of your business, custom web development ensures the delivery of exclusive functionality to help you streamline workflows and grow.
To learn more about our web app development services, contact the marketing experts at Progressive Data Services today!