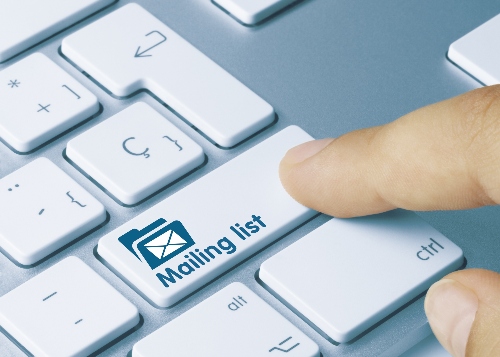 Do you use your time efficiently to get the best out of your mailing program?
In the 60s, the marketing and advertising mastermind Ed Mayer came up with the 40/40/20 rule. With this rule, he guides marketers to focus their energy in the most efficient way possible. He breaks down the focus of mailing campaigns into three sections: 40% on list building (who you send the offer to), 40% on the offer (what your audience gets out of it), and 20% on your creative content (the copy, design, formatting, etc.).
In this article, we'll break down the 40/40/20 rule so you can create the best mail marketing program possible.
Your Mailing List (40%)
Getting your offer in front of the right eyes makes all the difference. The more targeted your audience, the more likely the person receiving an offer is to make an action. Many companies have already built their list with detailed info from many people. However, if your list is outdated, you will end up wasting money sending to old addresses, sending duplicate info, or sending to disinterested people. Sometimes, building a highly-qualified list will have an enormous impact on your results.
Your Offer (40%)
Talking to the right person won't matter if the pitch is off.
Having a mailing list that is up-to-date and well-targeted is important, but you will need to follow up with a solid offer if you hope for someone to accept it. Consider what value you can give someone. Make sure it is enticing so the reader will want to respond. Be clear and concise with a compelling call to action, so your reader knows exactly why and how to take the next step.
Your Creative Work (20%)
Getting the right people on a list to see your offer are two important steps, but the creative touches can make the difference between making a sale and losing a potential customer. Make sure you have the fundamentals of powerful copy, design, editing, formatting, and images to show a professional offer. Use branding and exciting colors to draw their eyes. Use whitespace, short messaging, and clearly readable fonts.
Putting the 40/40/20 Rule into Practice
There you have it - a marketing rule established in the 60s that continues to resonate with people in the industry, and thus their readers, to this day. Make sure to have you spend most of your time building a strategically targeted list and crafting an enticing offer if you hope to have success with your campaign. Need help building your mailing list? Progressive Data Services has a solution for that. We are a data-base management company here to help your mailing program grow. Whether you need help with your postal mail, email, or telemarketing list, we have you covered.